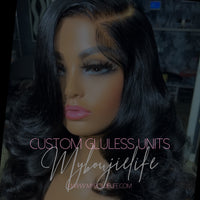 My BOUJIELIFE
 HAIR | STYLE | FASHION | LIFE
My BOUJIELIFE represents the epitome of style,  class, creativity, and originality. My BOUJIELIFE offers the ultimate experience with booking and scheduling appointments.
With The ultimate host Monecka Freeman, hair guru, self appointed philosopher, therapist and  Your instaChef.
Try our luxury VIRGIN hair, invest in a luxury CUSTOM UNIT,  or indulge in a unique piece or three from MY BOUJIE APPAREL.
MY BOUJIELIFE.....created by experienced Master Stylist | Clothing Designer | Wig Maker,  Monecka Freeman, extension specialist,  Offers extensive stylist, weaving, branding and marketing training. Thank you for visiting MY BOUJIELIFE 💋
CLICK TO SHOP